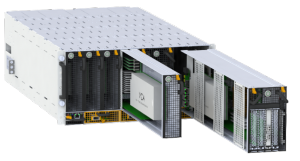 With its specific Rack design, OpenBlade lets you adapt your hardware to your projects, following storage, networking, HPC, broadcast or even deep learning project. From 1 to 16 blades in 5U, OpenBlade allows you to build your solution by choosing applications dedicated blades fitting your needs.
We have dedicated blades for HPC, Broadcasting, Rendering, Big Data, CCTV, Hosting and virtualization
Exemple of dedicated blades.